We celebrated our Fourth of July by island hopping. Some of our friends were getting ready to leave the island and a group of people were headed to the Keramas for a day of snorkeling and hanging on the beach. The Kerama Islands are a group of 22 islands located 20 miles southwest of Okinawa. Only 4 of the islands are inhabited. We spent 2 days on Zamami island. Traffic was a little crazier than expected that morning so our usual 30 minute drive took 55 minutes and we missed the early ferry (the fast ferry, an hour ride). As we pulled in all of our friends were running (lugging beach bags, kids, strollers and more). They all made and we didn't. So we took the slow ferry (hauls cars and takes two hours) an hour later.
We were a little worried about how the kids would do on the boat. No one ended up sick (Charlotte did come and lay down and ate some snacks which she is convinced was her saving grace). Tennyson had her paparazzi crowd who liked to take pictures. So lots of Japanese girls have pictures of Tennyson and her double chinned momma.
This is one of the uninhabited islands we passed. I think Jason and I need to do a weekend escape.
We didn't end up meeting up with our friends because of miscommunication. We ended up on the wrong beach and we weren't going to haul kids and gear a couple of miles. So we stayed and snorkeled, swam, and explored. We were mostly alone on the beach for the day.
Tennyson was super excited about this starfish. I was worried she was going to hurt it (she was trying to help it do the splits, so I had to rescue it).
Just before this trip we decided to invest in some good life vests so the kids could snorkel on their own with out Mom and Dad having to be right there. That was such a good choice. Charlotte is a snorkeling girl. She loves it and snorkels for an hour or so at a time if there is lots to see. Jason and Charlotte saw a sea snake (their venom is 10x more poisonous than a rattler - at least that is what we have been told. They are poisonous though).
Now here is the picture that made staying on this beach until after dark all worth it.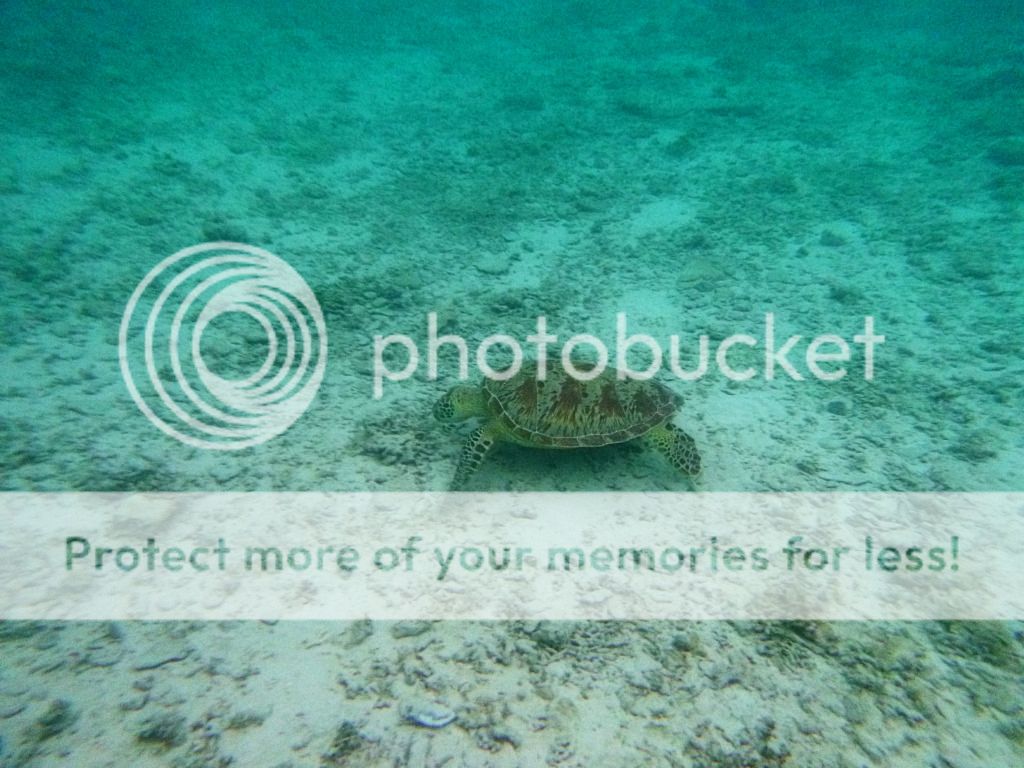 It is hard to see how big this guy was. Its shell was over 2 feet long. It surfaced a few times while Jason was watching it. When I had my turn he seemed more interested in swimming away from me. It was so cool to see a sea turtle in the wild. We were told that the eggs had hatched the day before and now the turtles spend their days at sea and return to the beaches in the evening. So the best time to see them is around 6 am and 6 pm. We saw this guy at about 7 pm.
We stayed at this place called the Beach Combah (or Beach Comber). We had lunch next door earlier that day before heading to the beach and we enjoyed pizza, which was really yummy. For dinner we ate at the Lava Rock. We ordered lots of different kinds of meat and you get to cook them on a large round piece of lava rock. There just isn't enough food to fill up any of my boys. Between rice, edamame, french fries (some of the best I have ever had) and the veggies for grilling we ordered I was stuffed. They need to learn to eat some fillers.
This is the hotel we stayed in, Japanese style. When you come in you are standing in the kitchen, washing machine, entry way area (pic on the right). The bathroom was to the left and then straight ahead is the living room/bedroom. You can see the dining table behind the kids (Charlotte is sitting on it). Yes, we slept on futon mattresses. We pulled a bunch out of the closet and everyone crashed quickly. The pillows were very interesting, they were stuffed with what I can only describe as cut up straws. Small round plastic tubes (the diameter of a straw and about an half an inch long) - noisy. I slept on beach towels rolled up.
The next day we headed to the other beach Furuzamami beach. The snorkeling there is awesome. Lots to see only a few feet out in the water.
This is the view from a balcony overlooking the beach. It was gorgeous.
For the ride home we hopped on the fast ferry (which we almost missed because we didn't know it docked in a different spot - Jason has a funny story about trying to talk to the ticket person). The fast ferry was nice because it was fast, but the trip was a lot more up and down, the slow ferry you didn't feel much at all.
It was a great two days away and every one but Tennyson ended up a little pink. Hopefully we can do more exploring around the Kerama Islands.