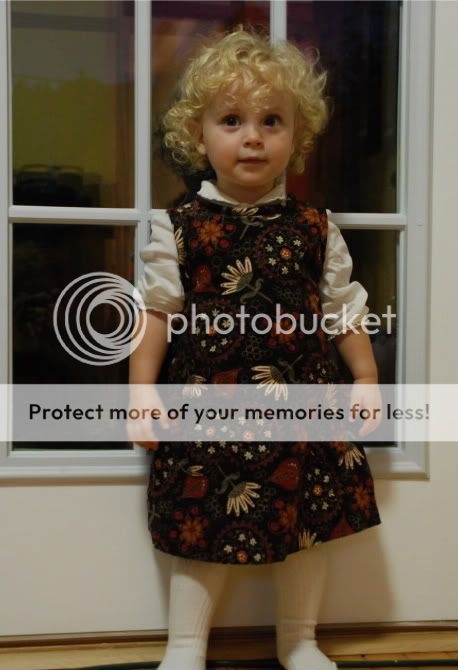 Fall is the busiest time of the year (or at least it feels that way). It seems like the moment School starts until New Years is past, there is no time for loafing. Here is part of my to do list:
1. Fall deep cleaning (I think will wait until January -when I am suddenly bored).
2. Charlotte - Jumper
3. Charlotte- Play Dress
4. Charlotte - Fall Church Dress
5. Charlotte - Christmas Dress
6. Charlotte - Winter Dress Coat
7. Charlotte - Nickers
8. Grahm - Pants
9. Jayce - Winter Dress Coat
10. Christmas gift - Mom
11. Christmas gift - Jason
12. Christmas gift - Jayce and Grahm
13. Christmas gift - Charlotte
14. Pillows
15...
I have barely dented that list and that is not all of it. I am a month behind and Thanksgiving is almost here!!
Have you noticed all the tutorials on blogs for taking your husbands tired button up and turning it into beautiful little girl dresses? There is one at
Made
she has several other examples you can see on her site. Here's
another
to name a few.
Anywhoo - I attempted this - IT IS NOT FOR ME!! I love the way they look when everyone else does it. When I did it I notice all of the things wrong - button spacing for Charlotte is bad, how the neck is not faced correctly - etc... Maybe I should try following a tutorial instead of just attacking it on my own.
This is Shirt Dress is her Play Dress!!
I was going to use the same pattern as this jumper to maker her Fall Dress - but she has not grown to a size 2 and by the time I had re-sized the dress to fit her I decided I was not going to try and figure out resizing and sleeves. - So I had to find another pattern for her Fall Dress. This is her jumper. The pattern is a McCalls pattern from the early 1900's.